Every now and then, the stomach craves the foods of my childhood. Among the many – Spam musubi is ranked in the top three. This Hawaiian snack (with Japanese origins) is made in a variety of ways depending on the salivating taste buds of the consumer.
Spam was a main course for American troops during World War II. They would eat spam (made from two cuts of pork, shoulder and ham) as a luncheon meat. Because of its high salt content, it didn't need to be refrigerated. So it worked well for the troops on the battlefield.
Spam musubi is composed of a slice of pan fried cuts of Spam placed on a small brick of rice and wrapped in nori (seaweed sushi wrap). It is patterned after Japan's onigiri or o-musubi.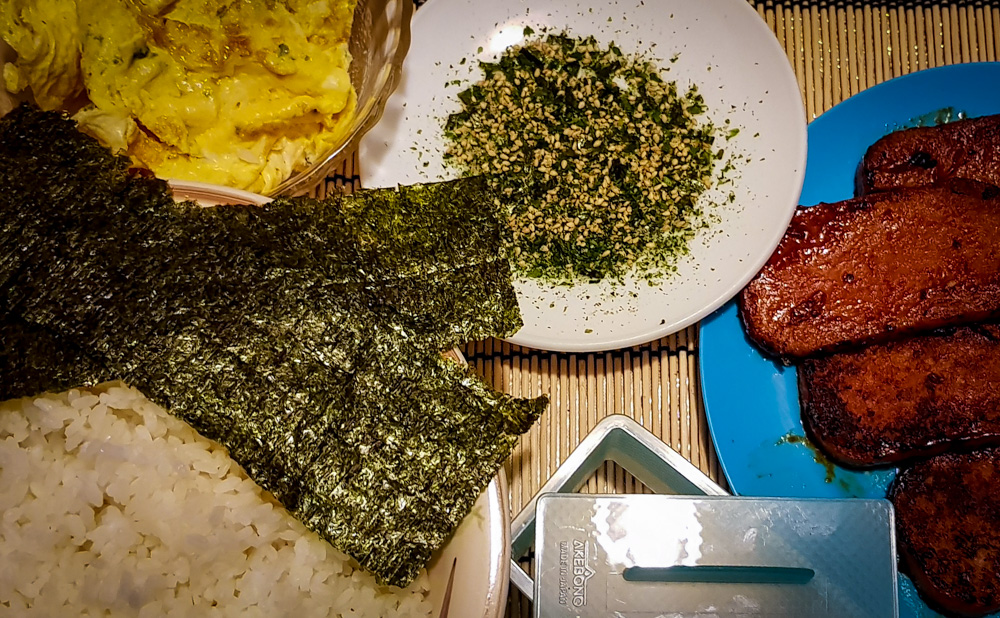 My earliest recollection of tasting Spam Musubi for the first time, was when I was about 5 years old living in the country town of Kahuku on the island of Oahu. The Manapua truck (manapua = steamed pork buns; truck = as in food truck) rang its 'pop goes the weasel' bells as it drove through our neighbourhood.
All the kids were out on the curb waiting for the truck to stop. Back then, you could buy just about anything from it. Hot food to donuts and pastries, frozen ice cream, cold drinks and all the candy in between.
The musubi was usually the first things to go. It kept the hunger pains at bay until the parent-als got home from work and cooked dinner.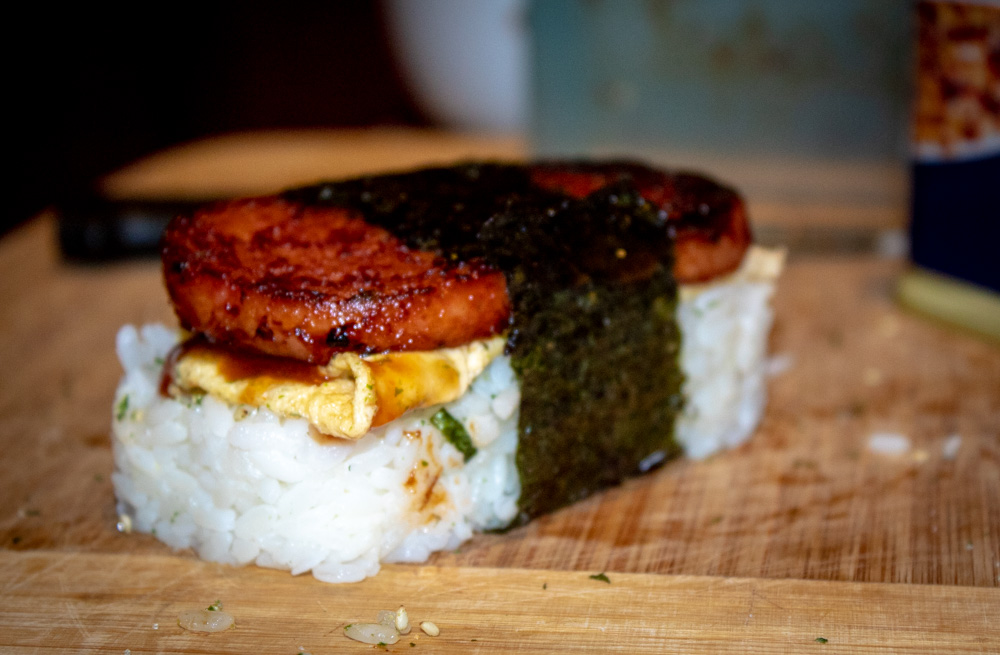 Today, Spam musubi is sold at every single convenience and grocery store in Hawaii. There is literally almost one on every corner. This is great for Spam musubi connoisseurs like myself.
One store will have it with sweet teriyaki sauce. Another will sell it with furikake (seaweed salt). The other has it with egg. While another one would sell it with Hawaiian shoyu.
There are now also several chefs across the United States of America who have gourmet Spam musubi on their restaurant menus. This war-time snack certainly has come a very long way.
Recipe
What recipe? There is no official 'right' recipe for Spam Musubi again because everyone has their own take on it.
Although, almost 40 years ago, Barbara Funamura – who is credited as being the originator of the dish – rolled a rice ball (like onigiri) and then shaped it in a triangle, placed a piece of Spam on it and wrapped it in a thin long strip of nori.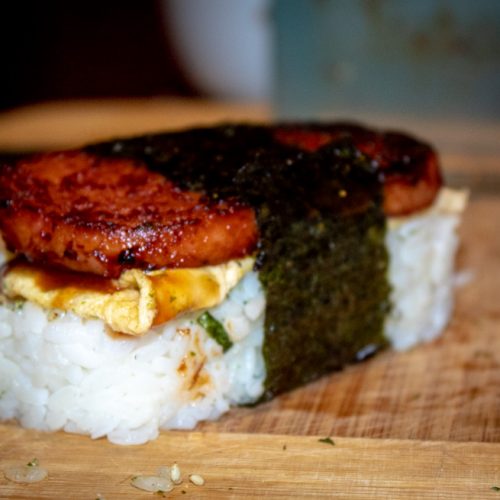 Spam musubi - a Hawaiian snack
A popular snack in Hawaii, Spam musubi is so easy to assemble and customize. This is Hermann's take on this Japanese inspired dish. 
Ingredients  
4

cups

of

white short grain rice

1

can of Spam

3

eggs

Furikake

seaweed salt

Nori

sushi wrapper
Simple sweet sauce ingredients
2

cups

dark Soy sauce

5

cups

light Soy sauce

3

cups

white granulated sugar

1

cup

brown sugar

2

cups

water
*NOTE: You can use whatever sauce you want or even add chilli peppers or tobasco to this sweet sauce
Instructions 
Steps
Cook the rice as per your usual method or rice cooker instructions

In a small mixing bowl, combine all the ingredients for your sweet sauce (or whatever sauce you like make) and then set aside.

In another bowl crack open the 3 eggs and add 1 tablespoon of furikake salt and then scramble. Set aside.

Remove the spam from the can and cut into even portions. (I turn the spam on its side and portion out 5 pieces (with a maximum thickness of 5mm). But I no measure nothing when I cook.

Heat a fry pan and place spam portions. (No need oil or butter) Cook until edges begin to caramelize and then flip and do the same on the other side. Usually 3 minutes per side depending on the heat of your stove.

Remove from the pan and set aside.

Pour the scrambled eggs mix into the frying pan. (Again no oil or butter) Spread the mix out as if you are making a thin omelette. Brown each side if you desire, then remove from the pan.

Return the portions of spam to the frying pan

Brush sweet sauce immediately over each spam. Do the same to the other side. Turn the heat down so that you don't burn the sugar in your sauce. (But I love that crispy burnt caramelized sauce)

Remove from the frying pan.
Assembling
Cut your nori (seaweed wrapper) into long strips or bands and set aside.

You will need to work fast so that the rice is still warm.

If you are using a musubi mould, fill it to the top with rice and then press down until the rice block is tight. You may need to press down more than once.

If you are using the empty spam can, fill the can half way with rice and using the back of a spoon, press the rice down until it nice and compact. Be sure to get into the curved corners and that you have the rice block even throughout. (Add a couple more spoons of rice and press down if needed).

Turn the can over onto a cutting board, plate or clean surface. Tap the can a few times to release the block of rice. Pick up and place the rice block on top of your nori strip or band making sure that the strip or band is in the centre of the musubi and ensuring that you can fold the nori over and around the musubi.

Sprinkle half a tablespoon of furikake onto the rice block.

Tear a piece of egg (about the same length as the spam) and place on the rice block

Place the caramelized spam on top of that and then fold the nori over and around the musubi.

Seal the ends of the nori using a bit more of the sauce.
Notes
Serve immediately (if you want). Otherwise you can wrap the spam musubi in a glad/cling wrap and refrigerate for lunch the next day.