If you're curious about what is 'ika mata' and what it taste like… then why not try out this simple, quick and easy recipe.
But first let me tell you a bit about 'ika mata'.
What is 'ika mata' and where does it come from?
'Ika mata' means 'Raw fish' in Rarotongan Maori.
The traditional way that we'd normally have raw fish is using the Maroro fish (flying fish). We'd slice the fish into 2 and half inch pieces, then make 2 or 3 slices back and front leaving the skin on, then marinate it in lemon/lime juice and salt.
You can use any type of fish but our most favorite is the Maroro or yellow fin 'Tuna'.
'Ika mata' comes not only from the Cook Islands but from all around the Pacific Islands e.g Samoa, Tonga, Niue, Fiji, Tahiti, Tuvalu etc. and we all tend to make raw fish our very own.
Although we have our own preferences, this is definitely a versatile dish – you can add any ingredients you like.

Ika mata is definitely a dish to try out when you fly over to the Cook Islands and it is best accompanied with Taro, Maniota( Casava) or Tunu Meika (cooked green banana)
The type of 'ika mata' I'll be sharing today is using tuna, coconut cream and a few vegetables.
This is one of my favorite dishes, one I crave whenever I fly back home, so please do give it a try and don't be afraid to add whatever you like to this dish.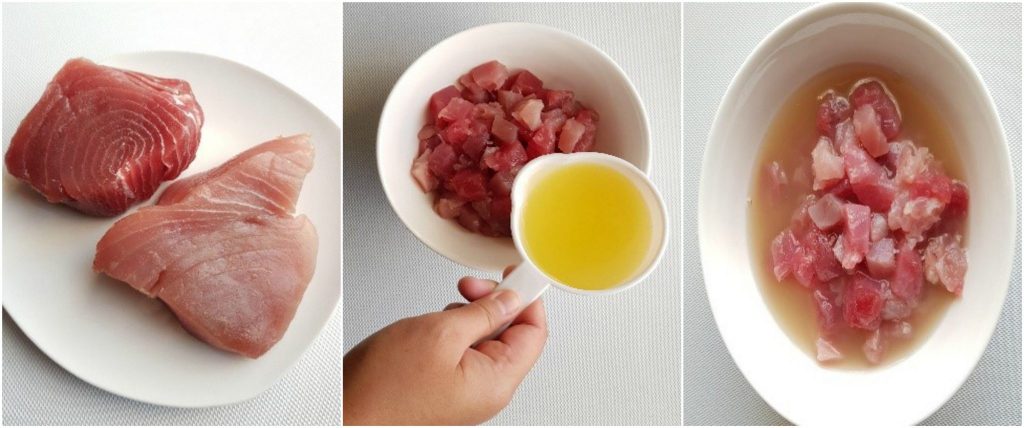 (These ingredients are what I had in my fridge at the time, so it's very basic and simple, but delicious.)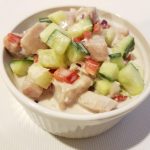 Cook Island Style Ika Mata (Raw Fish)
Every Pacific Island has its version of raw fish. Cook Islanders call it 'ika mata, and this beautifully simple, delicious recipe can be thrown together with ingredients you probably already have in your fridge.
Ingredients
400

grams

fresh tuna

4

lemons, juiced

1/2

cup

coconut cream

1/2

cup

red capsicum

1

cup

cucumber

1/4

cup

red onion

1

tsp

salt

(or, to taste)
Instructions
Wash and dice the tuna into bite size pieces. Add to a clean bowl.

Add the juice of 4 lemons to the bowl of tuna, cover and let it chill in the fridge for 30-45mins.

Dice the cucumber, capsicum and onions. Cover and let them chill in the fridge until the tuna has finished marinating.

In a new bowl, add the marinated tuna and lemon juice along with 1/2 cup of coconut cream and mix. Add all the diced cucumber, capsicum and onions to the bowl and mix well.

Add 1 tsp of salt to taste.
And you're done.