We have a funeral in the family this week. My mom's beautiful Aunt lived a long, full life and was called a few days ago to rest in Paradise.
Typical of many Samoan funerals, Auntie won't be buried until early next week. In the meantime, the family is spending a lot of time together – cleaning, cooking, planning, reminiscing, discussing protocol, and sharing lots of meals.
Enthusiastic cooks might think 'bring-a-plate' gatherings like these would be the perfect time to show off their culinary skills – they'd be wrong.
We've got a big family connected to several church groups, and all Samoans are programmed to not arrive empty handed… so your stellar dish would be lost in the mountains of food available throughout the week.
But late in the evenings of a Samoan funeral, when most of the day's visitors have gone and only the close, blood relatives linger – to buoy each other's spirits with light banter and shared memories… this is the time to bring out the best of our refreshments. This is Cup Tea time.
Of the dozen or so dishes typically served as part of a Samoan Cup Tea, probably the most iconic for us (or maybe second only to our panipopo) is the steamed pudding. We call it puligi.
It's obviously a dish we inherited from the Great British side of the world, most likely acquired during New Zealand's occupation of Samoa early last century, but our version has a subtle Polynesian essence. We usually replace the pudding's dairy component with coconut cream.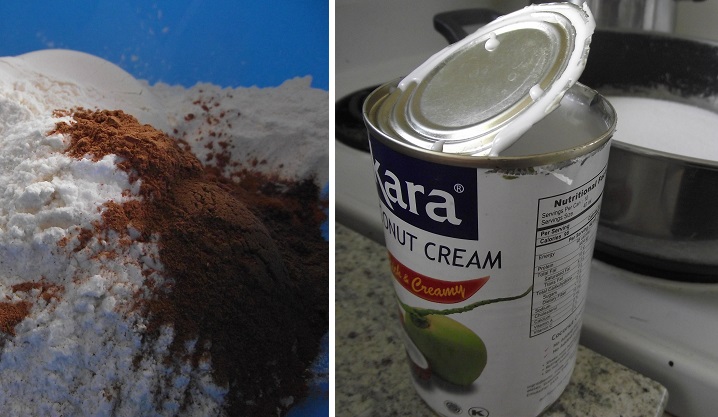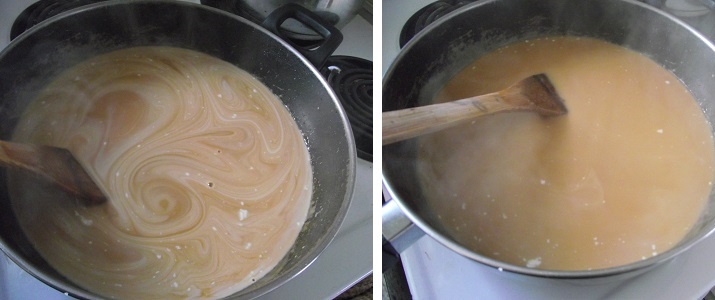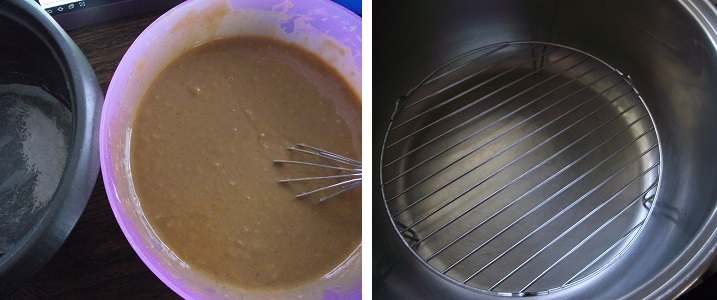 I've seen a lot of kitchen equipment designed especially for steaming. Don't think you have to invest in any of that, though, to make puligi. I learned from my mom how to improvise. A large pot, a shallow cooling rack, the inside tin of an old rice cooker – we're ready to roll.
Samoans love their pudding served with pouring custard.
Every single family I've had puligi with gets their custard from a box, which is great. As long as you follow the instructions and adjust things to taste, powdered custard can turn out very nice.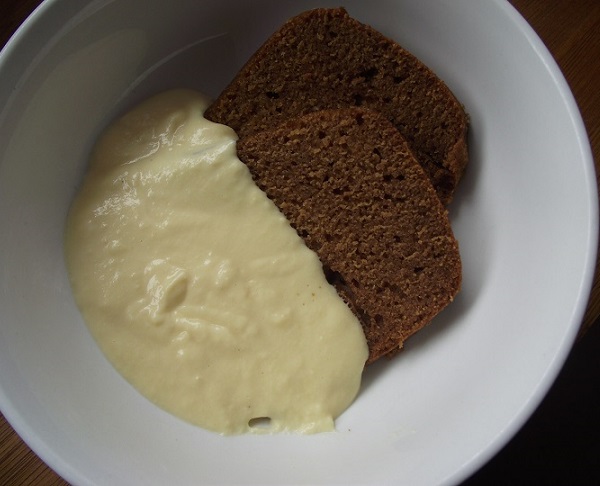 A couple years ago, though, I wanted to find out how they made pouring custard before it came in a box. It's definitely different. The first time I served my made-from-scratch custard, my mom, uncles and aunts protested quite vocally. It was not what they were used to.
But then I tweaked my recipe a little to humour their taste buds and now they've accepted the advantages of 'real' custard. It's lighter and creamier and just tastes… fresh.
These days, whenever possible (and with the blessing of my elders) I always make our custard from scratch.
You know, though, this puligi – adapted from a recipe my mom's friend gave her years ago – doesn't really need the embellishment of custard. It is flavourful and moist enough to be served on its own as a kind of cake. But it's not so sweet that you can't slather it with butter and have it for breakfast, the way one of my other aunts likes it.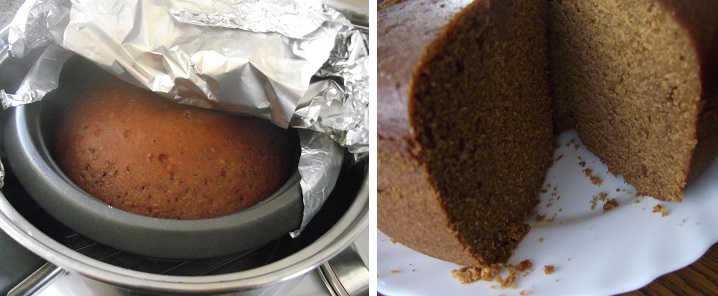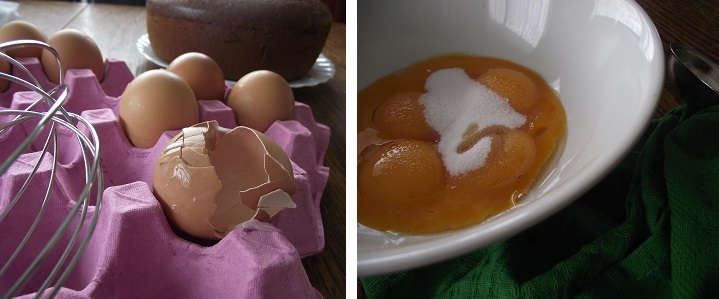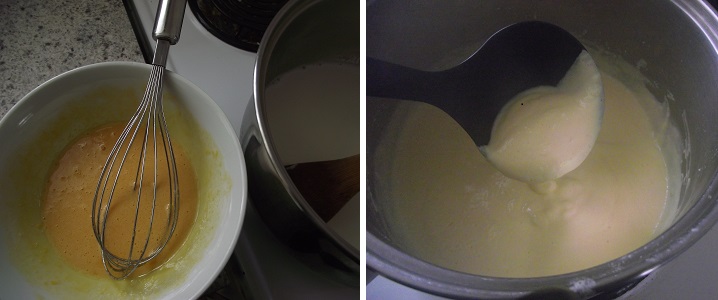 However way you serve it, puligi is a Samoan favourite and a great addition to your cooking repertoire, especially if you're Samoan, or your geography puts you at risk of ever having any of us over for Cup Tea.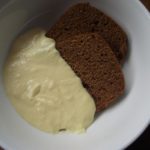 Samoan Puligi (steamed pudding)
Puligi - steamed pudding dressed in piping hot custard - is a classic Samoan dessert for Cup Teas and New Years Eve (at least in my family). My mother got this beautiful recipe from a good family friend. Most Samoans make this with powdered custard, but I love the custard made-from-scratch - recipe included.
Total Time
2
hours
20
minutes
Ingredients
Puligi
3 1/2

cups

all purpose/plain flour

2

tsp

baking soda

1/4

tsp

salt

1

tsp

cinnamon

1

tsp

nutmeg

1

tsp

ground cloves

340

grams

butter

about 1 1/2 cups

3

eggs

1

250g

can of coconut cream

1

cup

water

2

cups

sugar

total
Custard
6

egg yolks

1

tsp

cornstarch

1/4

cup

caster sugar

2

tsp

vanilla extract

2 1/2

cups

full cream milk
Instructions
Puligi
Prepare your pot(s).

If you don't already have fancy pudding steaming equipment, you'll need two pots - one to contain the pudding batter, a larger one to steam it in (the steam bath?)

I made this puligi in a tin pot from an old rice cooker, but you can use any other similar sized, suitable baking dish (my mom uses bundt pans). Just make sure it's fairly deep but will still fit comfortably into the steaming pot (yes, that's what I'm calling the larger pot now).


Grease your tin well. I lined the bottom of mine with baking paper, but found that it really wasn't necessary. The pudding would have popped out easily without it, I'm sure.

A shallow cooling rack goes into the bottom of the steaming pot; your pudding tin will sit on this.

Before heating, pour just enough water in the larger pot to to cover the cooling rack (so the water level will come up just to the bottom of the pudding tin). You'll need to top up this water several times as it evaporates during cooking.

Burning the sugar.

Put 1 cup of sugar in a heavy skillet or frying pan. Heat it on high, stirring often, till the sugar melts, turns brown and starts to get really frothy. Stir in your cup of water at this point, but expect a bit of hot sputtering.

Once the water is incorporated, add the can of coconut cream and enjoy the swirly white in caramel as you mix it all in. Remove the pan from the heat and set it aside to cool.

The pudding part.


Sift the flour with the baking soda, salt and the spices (cinnamon, nutmeg, cloves) into a large bowl then whisk well.

In another bowl, partially melt the butter (it should be very soft, but not too runny) then mix in the other cup of sugar. Beat in the eggs, one at a time, then stir in the burnt sugar/coconut cream mixture.

Fold the dry ingredients in and mix well, but just until you get all the lumps out, then pour the batter into your greased tin. Cover it well with aluminium foil, then place it in the prepared steaming pot.

Put the lid on the steaming pot and bring it to boil. Let it boil, adding more water as necessary, for 1 to 2 hours (mine took about an hour and 45 mins). Use a long skewer, inserted all the way to the bottom of the pudding, to check that it's done - it should come out clean.
Custard
Beat the egg yolks with the sugar, vanilla and cornstarch until light and fluffy.

In a heavy-based saucepan, heat the milk to boiling (frothing up) point, stirring often, then pour it slowly into the egg mixture, whisking vigorously the whole time.

Return the entire mixture to the saucepan and heat it again but only gently (to a medium-low setting). Keep stirring till the custard thickens slightly.

I usually taste it at this point, to make sure it's sweet enough, and add more caster sugar as necessary.

For an extra creamy custard (optional!) I might add a drop of full cream as well.

The custard is done when it's thick enough to coat the back of a spoon, although some people prefer it thicker. You'll figure out what works for you.
Please don't let my long as instructions put you off making this puligi. It's really easy once you're actually doing it, and the result is too yum to pass up.
Let me know how you go!