No time to read the story? SKIP TO THE RECIPE.
So… I have no idea how panipopo – those decadent buns soaked in sweet, velvety coconut cream – became a Samoan thing.
I know that bakeries in Samoa are amazing, and have been for ages. Even my grandparents talked about getting up before the sun, seleni (shilling) in hand, to buy a fresh loaf of bread and rush it home, still piping hot.
I also know that luscious coconut cream…? Grated coconut meat, twisted and squeezed into liquid, through a husk fibre strainer…? Now that stuff is the nectar of the Polynesian gods.
It wouldn't have taken long for some brilliant islander to start dipping steamy hot bread into sweetened coconut cream and then be floored by the mother of all lightbulb moments.
But whatever its origin story is (and if you actually know it, please share in the comments below), not many dishes are more iconically Samoan than the beautiful panipopo.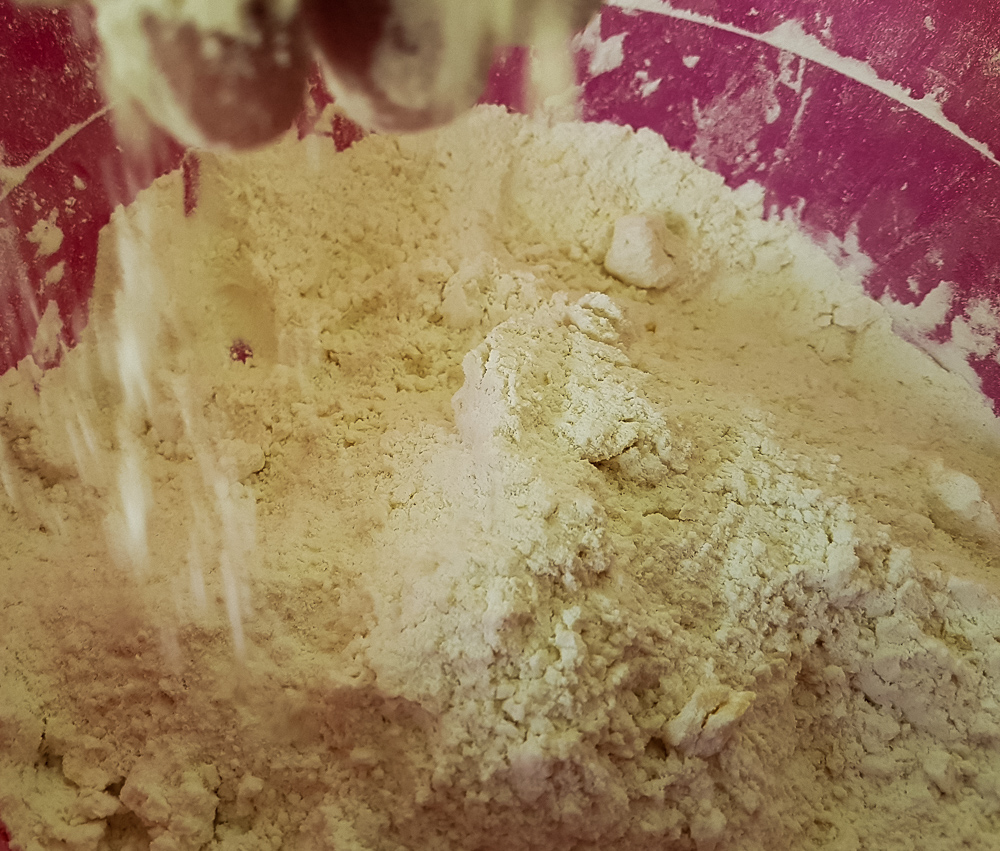 In my extended family, the ability to make good, authentic pagipopo (like they made it back in the old days) is a serious status symbol. My aunt is known around the family circles as the best pagipopo maker, but I have an older cousin who swears he taught her the recipe… and apparently, he got it directly from my grandfather. Oka!
So after I mastered the art of eating pagipopo, the obvious next step for me was learn how to make them. A few years ago, I went to my aunt. She made me swear a vow of secrecy then spent the whole day showing me – step by step – how to make her treasured pagipopo.
Over the next few months, I practiced and practiced (and ate and ate) and got pretty good at making them… and then I posted my aunt's panipopo recipe on One Samoana.
I know I know… it's supposed to be secret, but I had to do it!
Only cause back then most of the panipopo recipes online were posted by non-Samoans whose instructions were basically:
Buy some dinner rolls
Dip in coconut milk…
I felt like it was my duty as a Hamo Geek Girl to share an actual Samoan family's old, authentic recipe for real panipopo.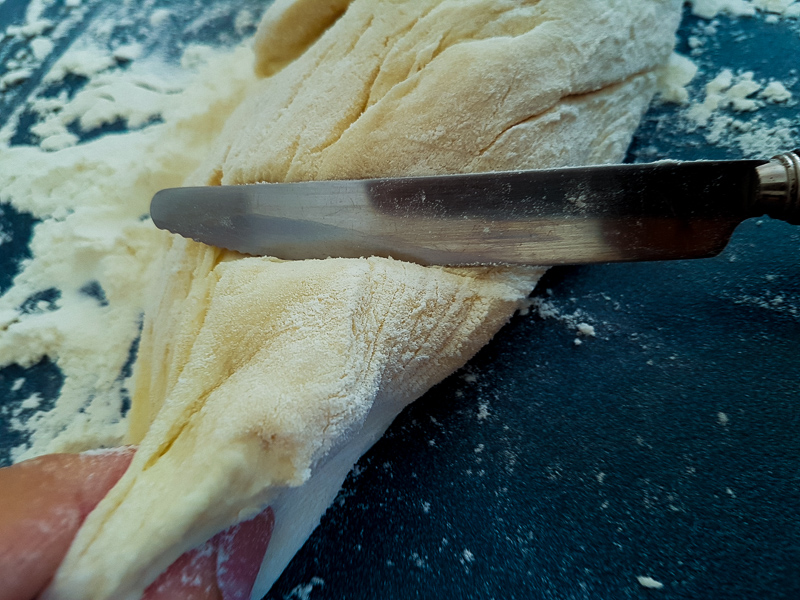 The response to my original panipopo article was a lot of fun to read. For the most part, people loved it. Check out some of my favourite comments from back then:
Wow. Perfect, perfect, perfect! 'O le panipopo mo'i lea!

I swear, when you try to tell the people who've served the 'not as mama used to make panipopo' and they tell you 'Eh, 'o le mea mo'i!'–it makes you crazy!

And, now… I am the Mastah Panipopo–hee, hee, hee. Thanks A LOT for the post, you gave me my panipopo sanity back; I knew my childhood taste-buds wasn't lying.
just had to post up again!! so i made another batch and it went over so well, people actually think i do this on a regular basis!! this recipe has my boyfriend's family LOVING me right about now!! thank you!! lol!! who knew that panipopo could create such reputation yeah?? lol!! Big faafetai's to you and especially your auntii!! i hope you post up some more soon!!
SUCCESS!! Everyone loved it & I am super stoked to be able to FINALLY make this from scratch for my family to enjoy. I knew the pagi popo others were making didn't seem right and it is because they used pre-made dough or frozen dinner rolls. Thanks so much for sharing your wisdom with us!
Yes. I know. I'm pretty cool.
BUT, I also had a lot of people (mostly offline, to my face) complaining that I didn't include any actual measurements. They were like, but how can I make something if you don't tell me how many actual cups of flour to use? Or how many exact teaspoons of yeast? And what exact size the pan should be?
And I was like… well, my aunt didn't give me exact measurements either. What do you want me to do?
It really is about practice. I've made pagipopo so many times (you can tell from my pagipopo abs) that the process is pretty automatic to me now.
I still use coffee mugs of flour, heaped up just past the rim. I still add just enough butter so the mixture feels silky all rubbed between my fingers. I still stir in just enough warm water so that the batter is thick but jiggly. Are those not accurate measurements?
I get it, though. Not everybody is a fai mea palafu – I mean, a natural – in the kitchen like me. And even I get this pagipopo recipe wrong sometimes, like when I'm distracted and forget a step. And sure, writing the recipe down will help everyone to get more predictable results… So I finally gave in.
I've just spent the last couple days making pagipopo – refining things, getting my house to taste-test and critique, eating way more of those yummy pagi than I should (it's for science) – to finally get you some actual, palagi-style measurements.
Now everyone can give this recipe a go: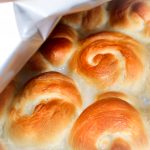 Authentic Samoan panipopo (coconut buns)
Probably the most iconic Samoan dessert, luscious panipopo is a must-have for those especially momentous family gatherings. This one is an old, Palelei family recipe adapted for the world by a Hamo Geek Girl.
Ingredients
The Panipopo Dough
4

cups

plain flour

to begin with

1

teaspoon

salt

50

grams

butter

3

tablespoons

white sugar

3

teaspoons

active dry yeast

1

cup

warm water

to dissolve the yeast

2-3

cups

warm water

to incorporate the batter

2-3

cups

plain flour

additional, for kneading
The Coconut Cream Sauce
1

can

coconut cream

(or 425ml fresh coconut cream, if you're lucky enough to have it)

2

tablespoons

plain flour

for thickening

1

cup

white sugar
Instructions
The Bun
Making the batter is so easy. Start by dumping your four cups of flour into a large bowl, add the salt and then rub in the butter until the flour feels 'silky' and gets a little bit clumpy. Then make a well in the middle of the bowl and chuck your sugar in there.

Time to work on the yeast. Put your 3 teaspoons of yeast into a smaller bowl (that's not made of plastic). Slowly add a cup of very warm water and stir until the yeast is dissolved... sometimes I get in there with my fingers to help the dissolving process.

Next, pour the yeast-water into the flour mixture - into the well with the sugar. You should see the yeast begin to bubble up as it makes contact with the sugar.

And then you just grab a wooden spoon and fold the flour into the liquid - mix it all up - adding more warm water (2 to 3 cups) until it becomes a thick batter that still jiggles a bit when you shake the bowl.


Cover the bowl lightly with a clean towel or baking paper and leave it in a warm, dry spot to rise for 2 hours.

When you come back to the dough, it should have doubled in size with lots of holes in it. Spread 2 cups of fresh flour out on a clean counter, then pour the sticky, hole-y batter on to it. Then you're going to fold the new flour into the dough and knead it until it's a lot less sticky because it's absorbed almost all of the flour. (This shouldn't take much more than 5 minutes).

When you've got a dough that's a lot more solid than batter, easier to hold but still a little bit sticky, chuck it back in the bowl and cover again for another round of rising.

This second rise should only take an hour and a bit. The dough should have doubled in size again but with only a few holes this time. On your clean counter top, dump another half cup of fresh flour because you're going to knead the dough again, but only to get rid of a little more sticky-ness.

And now it's time to roll your buns. That means, cut a palm-full of dough, roll it between your hands into a short, thick rope thing, then tie it like an 'almost' knot. If that's too hard, you can always just roll a sphere - up to you.

Oh wait!! Now is the perfect time to pre-heat your oven - 200 degrees Celsius if you're in NZ... or whatever that is in Fahrenheit (400?). Okay, continue.

Place your buns in neat rows in a pan that can take up to 24 buns (sorry, I'm still not sure what size pan that is). Let them sit there for a while (they will continue to rise) as you go prepare the coconut cream sauce.
The Coconut Cream Sauce
Pour one can (or 450ml) of coconut cream into a container. Chuck 2 tablespoons of plain flour into the empty can (or a cup) and slowly pour warm water into it - stirring, stirring, stirring - until the flour dissolves.

When the can/cup is full of water, pour the mixture into the coconut cream. Add one more can/cup of warm water - still stirring - and then stir in a cup of sugar.
The Final Step
Wow. This recipe is easy, but really time consuming, a ea? But we're finally at the end - yay!

You just need to pour your coconut cream sauce into the pan with the buns (save maybe a cup of cream to add halfway through the bake) then put the pan in the oven and go put your feet up for 20 minutes.

Come back after 20 minutes to check that your buns haven't burnt and the sauce hasn't spilled over and the oven is heating everything up evenly, etc. The sauce should have cooked down a little bit, so now's a good time to add the last bit of coconut cream, then close the oven for another little while.

After around another 20-25 mins (roughly 45 minutes in total), your buns should be golden on top with coconut cream bubbling around the bottom. Take the pan out and cover it with tin foil so the buns don't dry out as they cool.

Done! Call the family over, make a cuppa something nice, and share the panipopo love.
I think it's pretty clear now why authentic, Samoan panipopo – especially this recipe – is food for MY soul. It's all about family.
It makes me think of the grandfather I only know from stories and photos… a carpenter who built houses and cathedrals, a businessman who ran plantations and stores and inspired a Samoan newspaper… a caring babysitter who nurtured me as an infant when my parents had to work.
I smile thinking about my aunt – so proud of her baking skills, so generous with her knowledge… that apparently came from my cousin? I love that I've joined the family pagipopo tradition, but it comes with a challenge: who's hand is really the best at making this treat?
Pagipopo reminds me of Christmas and New Years, birthdays and funerals, when the family is together and it's time for Cup Tea.
I hope this recipe becomes a staple for your family, too.
Quick Samoan Language Tips:
Pani = bun, which isn't quite the same as bread (or dinner roll), which is why this recipe does not include milk or eggs. Instead, this makes the same dough that's similar (but but exactly the same) to the kind used for Samoan pork buns or German buns.
Popo = coconut, specifically mature coconuts with thick meat that's grated and squeezed to produce gorgeous coconut cream.
Panipopo is the correct name for this dish, but in casual-talk, Samoans will also pronounce it pagipopo – where the 'g' sounds like the 'ng' in 'hanger'.
The plural of panipopo is also panipopo.
—-
Tried this recipe? Please tell us about it in the comments below.
Ohh, and if you make this recipe and post a photo up on social, please use the hashtag #manauiPanipopo so we can check it out, too. 🙂