Family Time Is Sacred Time
During the past 5 months, I've spoken with many close friends who have lost a parent. As someone whose parents are both living, I cannot begin to fathom what that must be like. My heart goes out to them.
As a result of these conversations, I'm taking a serious approach to making time for my parents. In particular, I want to learn from them and record as much as I can while they are still around. The phrase family time is sacred time (#familytime equals #sacredtime) has never been more relevant.
Dad has taken the liberty of teaching me Tuvaluan – one hour of language study each morning. Bless his Nanumean heart. Mother, on the other hand, has many qualities, but if I had pick one to learn and document right now – it would be her love for cooking.
After living away from home in USA, Australia and Wellington, nothing ever satisfied my stomach more than the smell and taste of Mother's homemade cooking. IF YOU KNOW ME, you will know I don't like to cook. I would rather clean up after you than cook you a meal. I don't know how mother does it, but she can whip up a meal that feeds 10 people (8 of us siblings) with very little ingredients in a short timeframe.
Noteworthy Dish
Although my siblings and I are New Zealand-born, our deep roots originate from a beautiful small atoll Island called Tuvalu, which has a population of roughly 11,000 worldwide. My mother is Sueina Tealofi, daughter of Metia Tealofi & Silaati Faaniu and grand-daughter of Faaniu & Laine and Tealofi & Lisepa. She was born in Petio, Kiribati and raised in Tuvalu. Among her loud titles of wife, mother, grandmother, she is also a quiet achiever as a childcare teacher, interior painter, Tuvalu radio announcer, mentor, spiritual advisor and best friend. Despite her busy-ness – she never fails to feed her kids.
There is a particular dish she would make on rare occasions. Every time I smell Mother's mushroom chicken, I'm usually the first to have second and third servings.
During an 18-month volunteer mission for my church, Grandma Silaati passed away. Mother often talked about how 'Grandma e mafi ite kuka' (Translated 'Grandma is always strong at cooking'). I know my mother's regret was not recording Grandma's recipes. Today as I watch my dear mother age in beauty, I hope to compile as many of mother's recipes into a cookbook to give to my siblings someday (notice I said – 'give to my siblings', and not 'try to cook for myself').
Everyone has a favourite dish and mother's mushroom chicken, although not an original Tuvaluan dish, is by far the most noteworthy.
Recipe
I find this part hilarious because mother's way of cooking involves no measurement (say what!). So when I sat with mother to record the exact measurements, we couldn't stop laughing. She exclaimed in her Nukufetauan voice 'what do you mean you need measurements for the mushroom chicken? I don't know what the measurements are'! Thankfully mother has given much thought – for the sanity and credibility of this article. So enjoy.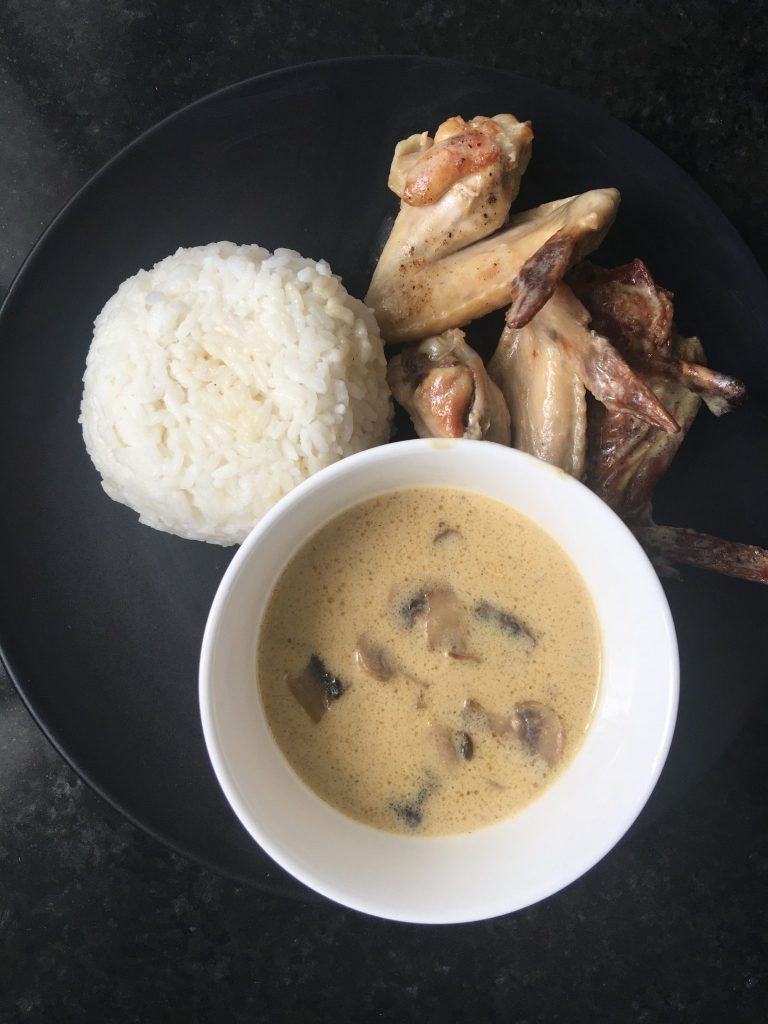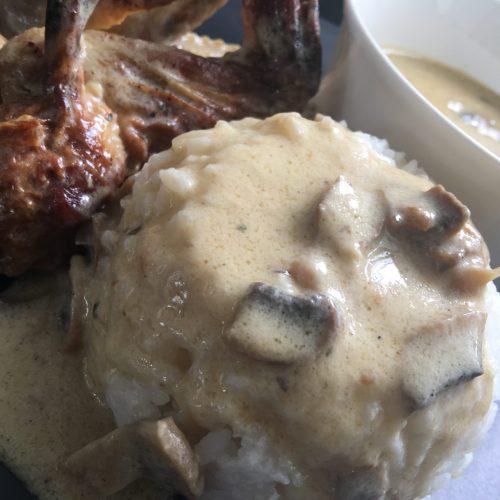 Mushroom chicken (Tuvaluan style)
Ingredients  
1

kg

Mushrooms

chopped

5

kg

Tegel chicken nibbles or wings

1

litre

Anchor pure cream

4

sachets

Maggi mushroom cream of stocking

110

g

Maggi chicken stock & seasoning

Maggi all-purpose seasoning

Black pepper
Instructions 
Chicken
Lay chicken nibbles on a tray. For flavouring, sprinkle Maggi all-purpose seasoning & black pepper

Roast chicken nibbles at 200C for 30min or until golden
Sauce
Refill the empty cream bottle with water and pour into hot pot

Stir cream until boil, then keep stirring for another 5 - 10mins

Pour chopped mushrooms into sauce and stir until mushroom shrinks (cooked)

Keep stirring until boil, pour in 110g of Maggi chicken stock & seasoning and 4 packets cream of mushroom powder (add according to taste)

Stir until thick

Note: If the sauce is too thick, you can add 1 – 2 cups of water (according to taste)

Bring it together
Once sauce is ready, pour in roasted chicken and softly stir and bring back to boil

Serve hot with favourite green salad or rice and enjoy 🙂
Make Time
Food is the universal language of bringing people together. If you don't cook, be the wingman cleaner and converse and learn from your parent, grandparent, aunt or uncle or sibling cook. Life is too short to not be surrounded by loved ones and beautiful food. We just never know how long our love ones will be around for, so make time. I am and forever will be, deeply grateful to an influential mother who e mafi ite kuka. #alwaysgrateful #formotherscooking
Tried this recipe? Let us know how it goes AND don't hesitate to share it with us on social media. Please use hashtag #ManauiMushroomChicken so we can check you out!