Tonga, a pacific island country made up of 169 islands, 36 of those uninhabited, most well known for their continuity of having a monarchy and given the title of "The Friendly Islands" by Captain Cook on his first arrival many centuries ago.
With a title, and a monarchy still in their reign, why else wouldn't you want to visit Tonga? What else does it have to offer… well, I can tell you now that Tonga gave me majestic sights, crystal clear waters, tropical breezes, churches that are so pristine and finally the people who show true pride in Tonga, and truly live by the title of "Friendly Islands". Even for someone who cannot speak the language as well as I should, I found it easy to communicate with everyone as English is something that is taught at school, so, it's great knowing that a friendly Tongan will be nearby to help.
Being a first time international traveller, it was hard to choose a specific place that would create memories. My family and I chose to travel to Tonga. Being the motherland of both my parents it meant a lot of unknowns for me, however, upon walking off the plane in Tonga, and seeing the land as it was, I didn't feel like I was a tourist. I felt like I belonged and was welcomed home. It's a hard emotion or feeling to describe and I reckon when you visit for the first time, you will know exactly what I mean.
So, you're probably wondering where I stayed, what I did, what I saw, what kind of nightlife they have. Hopefully the experience I've had will act as a gateway for you to have your first "Tonga" experience.
Where should I stay when I visit Tonga?
As we were heading over to Tonga with my Mum, we knew we were in safe hands. My Mum and her siblings have continued to maintain and upkeep their home that they grew in. For myself, partner and siblings, we weren't quite sure where we were staying, but, we ended up staying in a westernised house. It had running water, showers, gas ovens and many rooms. Staying at Mum's family home meant that my siblings, partner and cousins connected and built relationships that will last forever. We also got to see photos of Mum's past and photos of our grandparents, the stories shared by Uncles and Aunties meant that we found a connection or a bridge to the past that we had never had before. It was heartwarming and gave us sense of Mum's upbringing. Another great advantage that we had was not having to pay for expensive foods. Mum had arranged for meals to be prepped by her younger brother in an Umu, which meant that we got to have real Tongan food such as Lusipi, Ota Ika (Raw fish), Ufi (Yam) and Kalo (Taro). So, if you can stay with family, take it with open arms over a hotel.
What should I see and do?
Church
We went during Holy week (Holy Thursday, Good Friday, Easter Sunday and Monday) so what that meant for us is that on Thursday and Friday we attended a Catholic church. Take a moment to view the style or architecture of the churches and see people who take their religion seriously. It's a really spiritual experience, even for those that do not go to church often.
Go to the Basilica on Sunday. When you hear Tongans sing hymns it is a hair-raising experience that will give you chills – that's what you call a spiritual moment.
Visit Ignatius Cathederal – The monument of Saint Ignatius on demons is one that fills you with the strength knowing that God's power will help you defeat even the darkest demons in your life.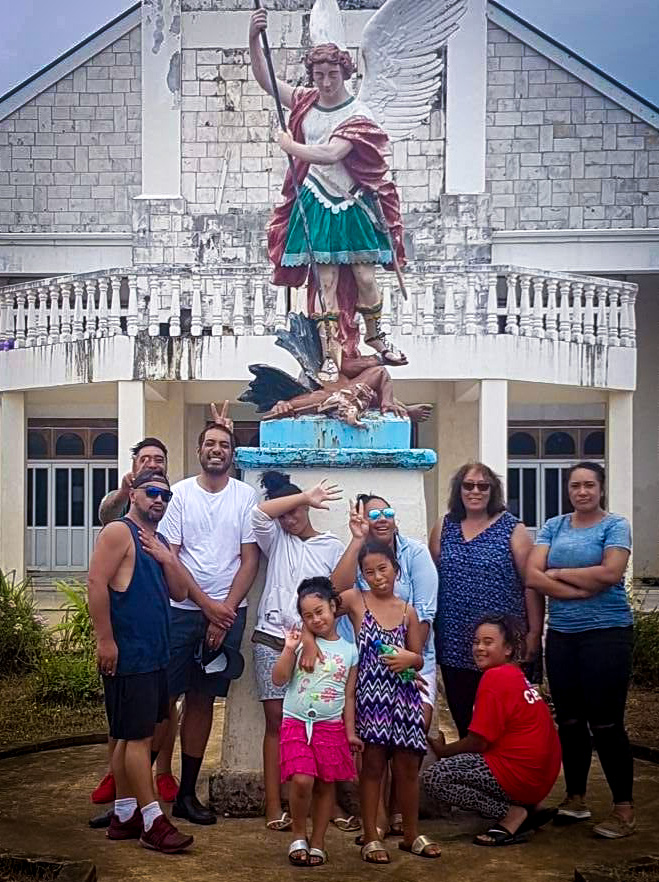 On Saturday, Mum arranged for us to travel on the back of a truck and visit tourist attractions.
Tonga's past
Captain Cook's Landing
Where Captain Cook first landed in Tonga is a stone with a plaque on it to show the importance of this area as this is where Tonga was able to be marked on the world map. The view that you get of the other islands and the vast sights of the of coconut trees really gives you an idea of what our people saw the day that Captain Cook Landed.
Ha'amonga 'a Maui
A Stonehenge-esque monument which was built for the 11th Tu'i Tonga acts as a gateway to the ʻesi maka faakinanga (stone to lean against), which was the King's throne at the time. Some legends even suggest that Tongans were giants many centuries ago, and that they carried these stones to make the monument what it is today.
Three-Headed Coconut Tree
It is said and believed that this is the only coconut tree with three separate crowns in all of Tonga, or even the whole of the Pacific. Something as unnatural as this is worth being able to say "Have you ever seen a three-headed coconut tree before? No…? Well, I have."
Blowholes
The blowholes are majestic if you go at high tide. We made the mistake of going at low tide, however, seeing water shoot out of the blowholes and the way that reefs have formed is a sight to behold. Locals also sell handmade jewellery, tapa cloths and carvings that represent Tonga strongly here.
Laulea Beach
This had to be one of the highlights of our trip. If you ever want to see real life HD images of sapphire oceans, colourful fishes, cliff tops that stream the horizon, white sand beaches with crystal clear waters, then this is definitely the place you want to be. It's a sight to behold and something that a camera lens will never capture. Definitely a "live through your eyes" moment.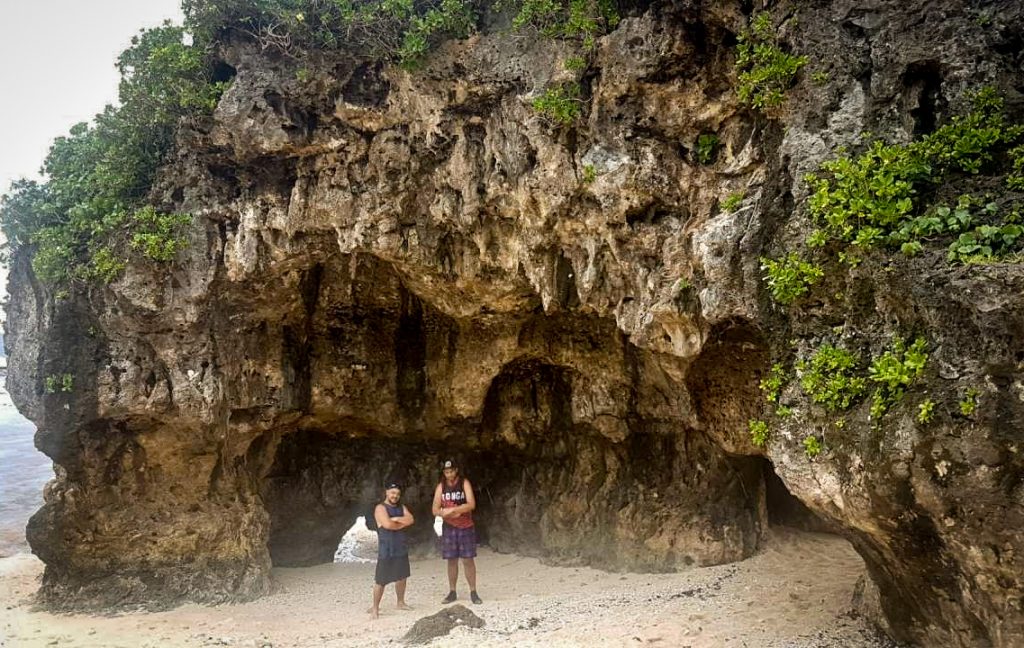 If you're a water baby, this is also the perfect location. With a huge rock that has been shaped out by crashing waters and reefs where you can swim with fish, it makes you feel as though you are one with the ocean.
Jetty in the City
Keeping with the theme of swimming, if you live near town in Nuku'alofa, there is a jetty that you can walk to that the locals use daily. Just be really care if you're super tall like I am and jump in feet first and break your toe! Make sure you go at high tide too.
Glimpses of the Present
Driving around Nuku'alofa
Just travelling on the back of a truck also meant that we got to see Tonga as it is today, real and raw. After seeing the destruction of Cyclone Gita, we got to really feel and see what the people of Tonga had to withstand and still need to repair, however, we really felt grounded and humbled by just how much Tonga has continued to thrive and ensure that the plantations and life continues as normal. It was a humbling moment.
Need a Coffee fix, try Tupu'anga Café?
A café run by Alipate and Emeline who source their own beans from local crops in Tonga and have their own factory where they roast their own coffee beans and make homemade Manioke and Kumala chips. Pate and Eme used to live in Auckland, and now run the café sourcing the local dairies, bakeries and convenience stores with their chips.
Their coffee is sooooo good that they even supply you with raw coconut sugar too. Coffee with extra benefits.
Where can I put my boogie shoes on?
If you're someone who seeks the nightlife, then there are a number of bars that you can go to and enjoy some island beats, more recent music or mixes by DJ Noiz than I recommend that you go to RELOAD!!! It's almost like a central hub for the locals and even tourists. The friendly staff are always willing to help and give a calming vibe that will keep your mind at ease
Tonga has enriched my life, deepened family bonds and given me reasons to go back more often and continue to learn and grow a side of my heritage which we had lost. Tonga also gave me an opportunity to understand conversations that were spoken in Tongan and be able to respond back. Thankfully, we were allowed to respond in English.
Every moment I hold is one that you wouldn't be able to capture through a lens, only through your eyes. The whole experience of Tonga has helped myself and my family remember to never take anything we have here in New Zealand for granted.
Take the chance and let the islands speak to your soul and spirit.